Before VFW Post 12074
there were just some veterans living in Chiang Mai who had an idea...
Some founding members at the Foreign Cemetery in Chiang Mai -

Veterans Day 2007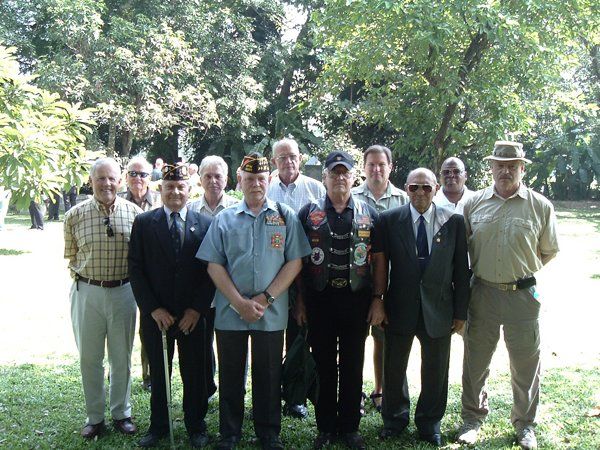 L-R: Bill Johnson, ???, George Olson, George Mayo, Mike Holmes, Bill Duden, Roger Proper
Mike See, Lenny Cozzo, J Sapp, Vic Frappier
The Genesis of our post can be traced to 2006 when two groups of U.S. combat veterans living in Chiang Mai got together. Prior to this time, there had been talk of starting a post for 25 year but not action. The first group called themselves the 100 percenters – for 100 percent disability rating from the Veterans Administration. The other group consisted of VFW members of other posts in Thailand, Philippines, China and the U.S. that had settled in Chiang Mai. Attending meetings was impractical so they decided to take action and establish a post in Chiang Mai.
The initial meetings were held poolside at the Bali restaurant in Hangdong, about 1.4 kilometers south of Chiang Mai – Samoeng Road, along Klong Road. There they hammered out the details of chartering the post and a membership drive to meet the required number of members to establish a post.
Present at the first meeting were Leonard Cozzo, Ken Chapman, George Olson, Mike Spain, Phil Williams, William "Gador" Arnold, Herb Brown and Mike Holmes. From there, attendance grew about three new members a month. One of the veterans who pulled it all together was the first Post Commander, Mike Holmes. Also very instrumental in getting the post started were Roger Proper, Mike See, Mike Glatz, "J" Sap, Anthony (Bud) Pinkosh, and Ron Torrence. Each played a key role in helping to achieve all new Post Charter requirements which took about 18 months.
Over the next few months they developed a roster of Vets in the Chiang Mai area, obtained VFW by laws including how to get a Charter. In 2007 they obtained a "digital" VFW logo and took the liberty of using it on a "flyer" soliciting Veterans. They made business cards and flyers to enhance the recruiting efforts at all the local establishments frequented by U.S. expats.
Unsure if they would receive a charter, their organizing "mantra" was:
... to take care of Veterans, their families, children, widows and orphans.
The original leadership team included the following:
Michael Holmes - Post Commander
Leonard Cozzo - Senior Vice (elect)
"J" Sapp - Quartermaster
Ronald Torrence - Trustee 1
Al Evans - Trustee 2
Martin Ballard - Trustee 3
Mike See - Adjutant
Ken Chapman - Post Webmaster
Roger Proper - Judge Advocate, ensured meetings ran smoothly and coached members on "Roberts Rules of Order"
Over the years our membership has included veterans from all services in the ranks of E1 to E9 enlisted, WO1 to WO5 warrants, and O1 to O7 Officers; all working together with a common purpose: Taking care of Veterans and their families!
The Veterans of Foreign War Post 12074 was chartered on 1 December 2008. The founding members initially named the Post "
Squadron Leader John 'Scarsdale Jack' Newkirk
Post Number 12074" to honor a brave American warrior with military ties to Chiang Mai during World War II. The founding members believed the Flying Tigers legend of "Scarsdale Jack Newkirk" would be a superb Post namesake until they could honor one of their own. Continuing with the theme of heroic air service, in 2012, the Post selected charter member
Ken Chapman
, a recipient of the Distinguished Flying Cross. Chapman was one of the first charter members to earn his heavenly wings, thus making him eligible for VFW Post naming honor. Ken Chapman was a legitimate combat hero; he earned the Distinguished Flying Cross, made his home in Chiang Mai, and was a charter member who served our Post honorably.
POST INSTALLATION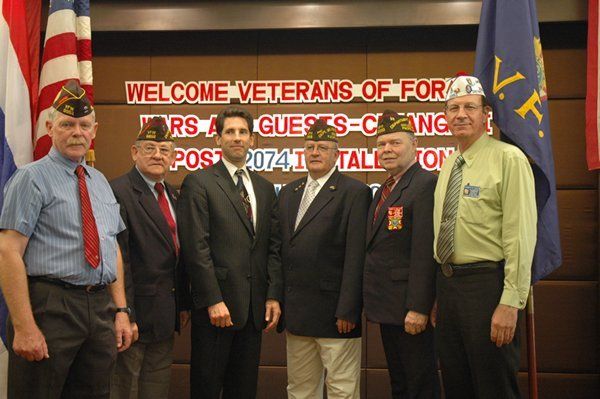 L-R: Post Commander Michael Holmes, Department Commander Rhett Webber
US Consular General Michael Morrow, Larry Lyons, Jim Malott, District 5 Commander James Oden
On January 17, 2008 Post 12074 was installed in Chiang Mai at the Grandview Hotel, and named in honor of Squadron Leader John "Scarsdale Jack" Newkirk, who was killed in action near Chiang Mai during the Second World War. The US Consul General, Michael Morrow, was on hand to celebrate with the more than 70 veterans in attendance, together with VFW Department and District Commanders, Department staff from Korea, members of the Pattaya, Bangkok and Udon posts, wives and friends of the Chiang Mai members, and many of the regional VFW staff. The local media were also out in force, confirming the significance of the new Post. The swearing-in of officers and members of the Chiang Mai Post was conducted by Rhett Webber, the Department of the Pacific Area Commander. James Oden, the District 5 Commander, gave the prayer. Michael Morrow gave a brief address, with words of praise and admiration for the Post's establishment in Chiang Mai.
For more history, download "Flying Tigers History Various Articles from Library of Roger Proper"
CLICK HERE